...an encyclopedic guide to the CLAMP series xxxHOLiC that anyone can edit. Our website is up to date with the latest content so beware of unwanted plot details if you are not. We are currently working on 410 articles and we need all of your help! Come and join us!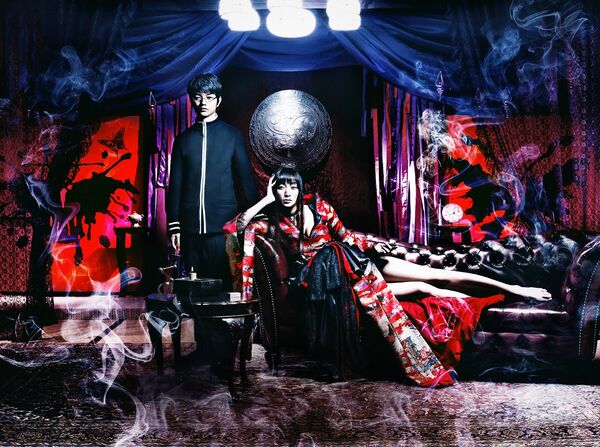 xxxHOLiC TV Drama's first promotional image
Vote for or Nominate Next Week's Media
Did You Know?

...that Dōmeki has golden eyes? This was proven when he gave half of his sight to Watanuki, he then appeared with a right golden eye and a left blue eye.
...that Watanuki makes numerous appearances on CLAMP's BLOOD-C?
...that xxxHOLiC is not finished yet? CLAMP resumed its publication on March 4, 2013, under the title "xxxHOLiC Rei".
...that xxxHOLiC has a TV Drama? It aired first on Feb 24 2013, on WOWOW channel. This is the 2nd CLAMP series to have a live action adaptation (after Tokyo Babylon's movie).
...that xxxHOLiC REI #3 will come with an ORIGINAL AUDIO DRAMA? Thus it was announced through the 2nd volume of Rei, released on April 23rd. The drama's script will be written by Nanase Ohkawa, and it will be released on August 20.
...that Tsubasa Reservoir Chronicle, Holic's sister series, will have a sequel? CLAMP confirmed that it will be published since August 20th, 2014; and it will run parallel to Holic Rei, like it's done in the past.

Afilliates and Other Web Links
CLAMP Webring, check them out!
xxxHOLiC Wiki, part of the CLAMP WEBRING

General Info Sites
Other Sites
xxxHolic Manga - Read xxxHolic Manga online since onemanga has terminated.
If you wish to affiliate, please use the talk page to discuss with the admins. Thank you.
If you see this, your JavaScript might be disabled or DiscordIntegrator plugin isn't working. If the latter, please contact a wiki administrator.
Current Manga Chapter

July 7th, 2014
xxxHOLiC Rei Chapter 38
Attention Holic readers! Rei enters a hiatus starting July 7th!
Find previous chapters in the archive
Kimihiro Watanuki is a young boy with a cursed gift. He has the ability to see evil spirits, and somehow they seem attracted to him. One day, Watanuki stumbles into a shop that grants wishes, and encounters Yuko Ichihara. She offers to take away his sight of the spirits in exchange for him working at the shop. He agrees and works at the shop until his debt is repaid.
xxxHOLiC TV Drama
It was first announced on September 7, 2012 via CLAMP-NET.COM. The show was first aired on February 24, 2013 in the WOWOW network. It's expected to cover the entire plot of XXXHOLiC. It will be aired in WOWOW's prime time (sundays at 23:00)...Read more
Greetings Everyone,
I've started a RPG based on the secondary characters who appear in the Tsubasa Reservoir Chronicles - Collected Memories series. The following characters are noted on: Tsubasa Reservoir Chronicles - Collected Memories Manga Vol  1, Pg 's 190 - 193
Tsubasa Revelations Chronicles - …
Caridee
•
Major, major spoilers for people who haven't been keeping up with Rei's storyline
Just finished reading a rough translation from Rei's last chapter so far (Chapter 38) before entering its hiatus, and just gotta say this isn't what I had expected
Some points to add:
Watanuki did travel into a dream, in…
whats your favorite character in XXX Holic? ,for me Kudakitsune are the best!!!!
See more >
Contributing
We are currently housing
410
articles, and
839
files.
We need YOUR help expanding and adding articles to the wiki! If you're new to Wikia, please take a moment to read the Wiki tutorial before getting started.
If you're new to this wiki, please observe our

Policies and guidelines

, and if you get stuck feel free to check in at the help desk.
If you've read the tutorial or already have editing experience, and you have an article relating to ×××HOLiC to contribute, you may use the box below to create it: <createbox>width=30</createbox>